INFRASTRUCTURE CONCESSION REGULATORY COMMISSION AND LAGOS BUSINESS SCHOOL CENTRE FOR INFRASTRUCTURE POLICY REGULATION AND ADVANCEMENT (LBS CIPRA) INVITE YOU TO A TURKEY NIGERIA PPP KNOWLEDGE EXCHANGE WEBINAR FOR PPP AND INFRASTRUCTURE PROFESSIONALS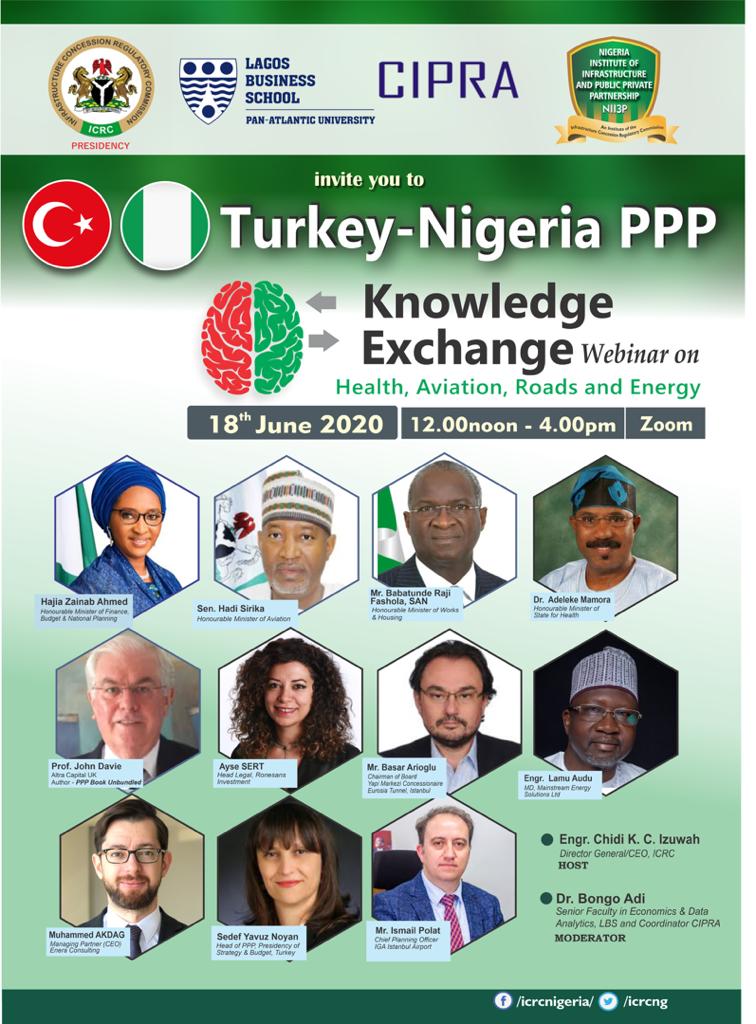 The contract value of public-private partnership projects carried out in Turkey since 1986 is nearly $140 billion, while the country ranked first in the European market during 2014-2018 with projects that have an investment value of 22.76 billion Euros (2018 PPP Report Presidency of Strategy and Budget)
Public-Private-Partnership (PPP) is the widespread public procurement policy adopted by many governments all around the world to deliver exceptional public services for their communities. In this direction, a significant portion of Turkey's well-known megaprojects, including the Istanbul Airport, the Eurasian Tunnel, the Yavuz Sultan Selim Bridge, the Osmangazi Bridge, city hospitals across the country and a number of railway projects, were completed with the efficient implementation of public-private partnership (PPP) schemes. Turkey's successful realization of projects financed with the PPP model has been cited in global listings and has set an example for many other developing countries.
The 2018 Public-Private Partnership Report prepared by the Presidency of Strategy and Budget of Turkey underscored the importance of the PPP as an alternative financing model for the construction of mega-scale infrastructure investments, including highways, bridges, airports and hospitals. The PPP model, the report noted, expedites the completion process of investments and improves the service quality of these projects with the participation of the private sector while decreasing the burden on the public budget and reduces costs.
Turkey has been carrying out a great number of megaprojects under this PPP program since 1986. Currently, 210 PPP projects are actively in operation. Turkey has favorable investment legislation for PPP investments that can be realized through various models, such as build operate, build-operate-transfer, transfer of operational rights. Turkey's investment climate is further strengthened by domestic and international laws that protect investments and provide international arbitration. Turkey's macroeconomic policies, investments and more importantly, strong public finance management support PPP investments that require guaranteed purchase.
In order to enable Nigeria and Africa replicate Turkey's massive PPP successes post Covid 19 – ICRC and LBS CIPRA invite you a Turkey Nigeria PPP Knowledge Exchange Webinar to listen to exciting PPP project sponsors/developer presentations on "What and How" of this successful mega projects. Our key note speakers include the Hon. Minister of Finance, Budget and National Planning – Mrs Zainab Ahmed; Hon. Minister of Works and Housing – Babatunde Fashola SAN, Author of the "PPP Book – Public Private Partnerships Unbundled" Prof. John Davie of Altra Capital UK and many more.
Date – 18th June 2020 (Thursday)
Time – 12noon to 4pm
Location – Zoom
WATCH THIS SPACE FOR MORE INFORMATION
Register via the link below
https://lbsng.zoom.us/webinar/register/WN_F2NXD8meQtmZW0RjJlatPQ