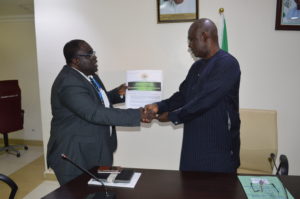 The delays experienced in project preparation for Public-Private Partnership projects are being addressed so as to fast track the process of reaching financial close. This was made known by the Acting Director General of the ICRC, Engr. Chidi KC Izuwah Snr.
Izuwah made the disclosure during the presentation of an Outline Business Case Compliance Certificate for the 33 Silos project to the Hon. Minister of Agriculture, Chief Audu Ogbeh, in Abuja, Wednesday.
According to him, there is the need to ensure that investors are in a position to recoup their money and steps are being taken to that effect.
In his response, the Hon. Minister of Agriculture, represented by the Minister of State, Heineken Lokpobiri, pledged the support of the ministry for the Silos project stressing that it is critical to the success of the agricultural transformation agenda of the Federal Government. According to him, although there have been complaints of delays in the PPP process, he remains confident that the ICRC, given its renewed vigour, will address them.
The Federal Government of Nigeria (FGN) through the Federal Ministry of Agriculture and Rural Development seeks to explore the option of partnering with the private sector for the management and operation of 33 grain silo complexes in Nigeria. This is in line with government's strategic vision of firmly establishing PPPs as a viable option for the operations and management of Silo infrastructure for storage of grains in Nigeria. Accordingly, the Federal Ministry of Agriculture is taking steps to concession Silos built across the country by the Federal Government. The total combined storage capacity of the silo complexes is 1,360,000MT.