In the light of the recent jail breaks in Abuja and Kogi Prisons, the Director General of the Infrastructure Concession Regulatory Commission (ICRC), Aminu Diko has advocated the relocation of Prisons from city centers to the hinterlands through Public Private Partnership. Mr. Diko stated this when he paid a courtesy visit to the Minister of Interior, Lt. Gen. Abdulrahman Danbazau (Rtd) on Tuesday.
According to Diko, "this strategic decision, which is in line with global best practices, is premised on the fact that it would curb incessant jail breaks as it would be difficult for the prisoners to escape and blend with local population, with all the attendant risks."
"Furthermore such prisons would have land for correctional facilities that would equip the prisoners with new skills preparatory to life after jail", he said.
The DG also informed the Hon. Minister that the Federal Government had committed to building six new correctional centres, one each in every geo-political zone by the year 2020 but work has not commenced.
In his response, the Hon. Minister of Interior, Gen. Abdulrahman Danbazau disclosed that his Ministry was currently reviewing the management of all prisons in the country and the PPP procurement option is one of the issues under consideration.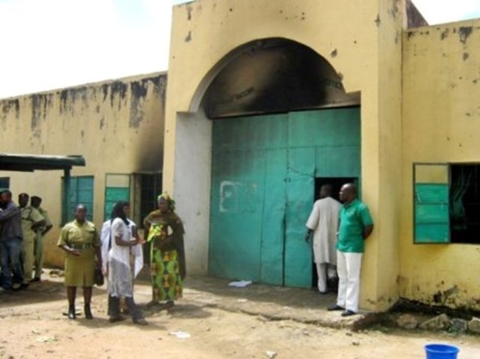 He expressed support for the reforms and modernization of the prison system the PPP arrangement offers but emphasised that the proposal must be thoroughly reviewed with all stakeholders.
"Issues regarding the correct valuation of the prison land and the benefits accruable to Government would need to be brought out clearly" he said. He however disclosed that he was already holding discussions on the matter with many states including Lagos, Ogun, Akwa Ibom and Imo who have accepted the relocation of the prisons in their states.
According to the Hon. Minister, it costs the nation over 10 billion naira to feed prison inmates every year but close to 70% of the inmates are those awaiting trial. He said: "advanced countries benefit from prison labour in various sectors like in the production of vehicle plate numbers as in the US, but in line with international laws, inmates who are awaiting trial cannot be used for labour".